Greenfield Park district
---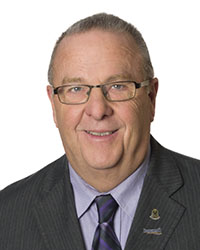 President of the Borough of Greenfield Park
Resident of Greenfield Park for 56 years, Robert Myles was first elected in 1998. He has been President of the Borough of Greenfield Park since 2013. He was also Leader of the Opposition from 2013 to 2017 and Leader of '' Longueuil option until the merger with Longueuil Citoyen in December 2020.
Among his responsibilities, Robert Myles chairs the Planning Advisory Committee (CCU) of Greenfield Park, is a member of the board of directors of the Réseau de transport de Longueuil (RTL) and a member of the public security commission at the Agglomeration and of the city finance commission.
Always very involved in the community, he is a member of the Lions Club as well as vice-president of the Greenfield Park Christmas Basket Association. Professionally, he worked in the aviation industry for a long time until his retirement.
---
Functions and strategic committees
· President of the Borough of Greenfield Park
· Member of the Commission des infrastructures urbaines et du développement the Borough of Greenfield Park
· Member of the Commission de l'éthique, gouvernance et de la démocratie
· Member of the Commission de la sécurité publique de l'agglomération de Longueuil
· Member of the Commission des finances et des ressources humaines
· Member of the Commission des infrastructures urbaines et du développement .
· Member of the Comité du Régime de retraite à cotisations déterminées pour les employés de la Ville de Greenfield Park
---
Contact information