Greenfield Park district
---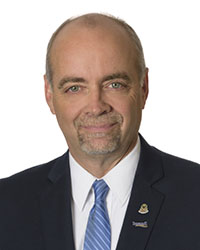 Borough councilloro 2 (since 2013)
Resident of Greenfield Park, Wade Wilson has been a Borough Councillor since 2013.
Very involved in his community, he is notably Chairman of the Board of the Mike Reid Tournament, an annual softball tournament held in Greenfield Park since 1984 in memory of Mike Reid whose goal is to raise funds for various community organizations in Greenfield Park and for the Mackay Centre School in Montreal, which offers education to hearing-impaired and disabled children.
He is also Vice President of the Greenfield Park Christmas Baskets Association, an organization he has been involved with for 41 years.
---
Functions and strategic committees
Vice Chair of the Town Planning Advisory Committee of the Borough of Greenfield Park
Member of the Commission du transport actif et de la circulation
Member of the Commission loisirs, sports, culture, patrimoine et vie communautaire
Contact information
450 463-7100, poste 2785 ou 438 928-3373